Curious about Star Wars cosplay? In this article, we review all of the Star Wars The Black Series helmets made by Hasbro. As perfect or near-perfect replica helmets, you can expect to look the part when you dress up for a Star Wars convention.
Star Wars Helmets
The Black Series replica helmets were first sold in 2015, which was also the year The Force Awakens was released and were widely acclaimed for their detail, features and quality for entry-level prices. Today they are improving in quality with every new release and gaining more and more popularity.
Hasbro are still to make many of the famous trooper helmets, for these you may want to look into these custom Star Wars helmet companies.
Star Wars The Black Series Phase II Clone Trooper Helmet
Finally Hasbro have released the Phase II Clone Trooper helmet! Why it has taken so long I have no idea. If you think about how many repaint opportunities there are for all of the different battalions, you would have thought it would have been the first helmet available. This version is the plain white version, but I am sure we can expect helmets base on the 501st, 212th, 332nd and more in the near future.
Here's the details:
Far superior to battle droids, Clone Troopers formed the backbone of the Republic's new military that waged war against the forces of the Confederacy of Independent Systems. So Symbolic were they of the times, the galaxy-wide conflict that saw their debut took its name from their ranks: the Clone Wars. STAR WARS fans and collectors can imagine scenes from the biggest battles and missions in the STAR WARS galaxy with this premium roleplay, PHASE II CLONE TROOPER PREMIUM ELECTRONIC HELMET, inspired by the Star Wars: The Clone Wars animated series. Features premium deco, realistic detail, series-inspired design and voice-changing technology so fans and collectors can distort their voice to sound just like a Phase II Clone Trooper. Available for pre-order 10/19 at 1PM ET at Hasbro Pulse and most major retailers. [Requires 3x AAA batteries – not included]
Star Wars The Black Series The Mandalorian Artillery Stormtrooper Premium Electronic Helmet
Hasbro once again have used the classic Stormtrooper mold to create the Artillery Trooper (or Mortar Trooper) helmet. This trooper appeared in The Mandalorian Disney Plus series and includes very similar features to the Incinerator Trooper helmet. I really like the design of this trooper with the yellow detail going down the centre of the helmet.
Check Price on EE
Black Series Darth Vader Helmet (Obi-Wan Kenobi Series)
This is the second time Hasbro have released the helmet of the Dark Lord of the Sith. But this Darth Vader helmet has been updated to reflect what it looks like in the brand new Obi-Wan Kenobi Series. This roleplay item features premium deco and realistic design. It also includes iconic ventilation sounds, an updated sculpt, and magnetic multi-piece assembly.
Check Price on EE
Black Series Trapper Wolf Helmet
The most recent release from Hasbro is the X-Wing pilot helmet of Trapper Wolfe from The Mandalorian. This iconic roleplay item is a full-scale reproduction of Trapper Wolf's iconic helmet, and features highly detailed deco, series-inspired design, interior padding, electronic lights and sound FX, inspired by both the attack of Ranzar Malk's space station or the pursuit of The Mandalorian's Razor Crest. It also includes 3 internal speakers, which create an immersive surround sound experience while synchronized LED lights inside the visor simulate sounds, as well as a communication from Carson Teva. Fans and collectors can imagine suiting up for flight as the respected leader of a squadron of X-wings with the Trapper Wolf Electronic Helmet.
Check Price on EE
Black Series Kylo Ren Helmet
The first-ever helmet released for The Black Series, it remains hard to find and expensive. In terms of looks, it is very similar to the exact one worn by Kylo Ren. It also has a voice changer which can be activated by a button on the right side.
The black plastic helmet requires some assembly, and include the mask, helmet, and straps. They fit firmly together and come apart easily when required. There are some dents and scratches very similar to the original prop, and they look very realistic even when viewed closely.
While it looks very detailed, the voice changer does not seem to do a good job, though you can modify it yourself if you want to add a touch of authenticity. You can even talk over it because it is not very loud. It does fit remarkably well with the adjustable straps allowing for a snug wearing experience during cosplay.
Check Price on Amazon
Black Series Shadow Trooper Helmet
This replica helmet was released in 2016 and has improved upon the quality of the features. It has speakers that play lines from the movies when you press the right button. The visual details are also very accurate to the original prop.
Having been molded exactly as the original props were, there are no stickers unlike other replica helmets, and every part is solid. The black does make some minor dings very visible, but you can always chalk it up as wear and tear a Shadow Trooper might go through. The visor is also coated in reflective material and makes taking photos harder, though they look very authentic this way.
Both the strap and voice changer do not work very well, unfortunately. While you can add padding yourself, it does not seem to be a very good fit without some padding. However, it is still a very good entry-level wearable helmet and works just as well for display only.
Check Price on Amazon
Black Series Imperial Stormtrooper Helmet
Also released by Hasbro in 2016, the Stormtrooper wearable helmet has the batteries located at a better spot than the Kylo Ren helmet, the same as the Shadow Trooper helmet above. This also seems to help the helmet stay on better. Besides, you can breathe comfortably and have good vision, although looking down is harder due to the visor.
There are no stickers on this helmet as well, as they are all part of a solid design. The white hides some dings and scratches easier than the black of the Shadow Trooper helmet, an unanticipated bonus if you plan to wear this often. It comes in three parts that make them stay permanently together, so disassembling them is not a good idea.
Like the Shadow Trooper helmet, the voice changer does not function very well at all, and larger heads have a bit of a tight fit. The sculpting is still great, and the build is solid. For an entry-level helmet, it is well worth your money, as both the visual and physical qualities are excellent.
Check Price on Amazon
Black Series Poe Dameron Helmet
This replica helmet released in 2017 does not have a voice changer. Instead, you have three speakers, one on each side and another at the back to provide an immersive experience. These speakers play sounds from BB8 and other X-wings flying by and move from one side to another as if you have a surround-sound system on, adding a touch of realism.
The details on this helmet are very accurate to the original, and when seen from up close still resembles Poe's real helmet. Some wear and tear on the surface show the abuse it went through during his adventures, and this will score bonus points on the realism chart. As there is no need to change your voice, no voice changer is included in this helmet.
You can say 'hey BB8' or something similar to activate the voice lines, or beep lines, in this case. The quality and looks are very well-worth your money. It also has removable padding, and it is optional if your head is larger, as smaller heads seem to find it very snug and comfortable.
Check Price on Amazon
Black Series Darth Vader Helmet
The iconic replica helmet of Darth Vader's terrifying visage released in 2017 is a very accurate product for its price tag. This premium electronic helmet features speakers for breathing effects similar to the movies and magnetic "seals". When you remove the outer mask from the collar, it will hiss, and putting it back on gives a meaty "thunk".
Inside the helmet are some of the electronics the original mask and helmet have. Hasbro did a very good job replicating them, and these are often not noticed by lower-end replicas. However, for this price tag, the interior design is no less detailed than the exterior.
The helmet does get a bit hot, particularly if you want to breathe deeply to achieve the perfect Vader sound. However, this is offset by the remarkable build and visual qualities. Overall, it is a very good helmet for its price.
Hasbro also released a Force FX Lightsaber so that you can complete your Dark Vader look!
Check Price on Amazon
Black Series Shock Trooper Helmet
As a repaint of the mentioned Stormtrooper helmet above, this one is a Gamestop exclusive, while the helmets are still made by Hasbro. The features seem to be the same as the standard Stormtrooper replica helmet, and there are no other changes other than the paint. The other features like straps and a voice changer are also present.
The paint job is very accurate, looking just like a real Shock Trooper's helmet. The red paint is very realistic and fits the aesthetic perfectly. The sculpting is very precise as well, contoured just like the real helmets.
Unfortunately, the voice changer does not seem to be working as before, and it can be uncomfortable for some head sizes. However, it is built solidly and you can add padding if you wish to. It is a great entry-level replica helmet like the others.
Check Price on Amazon
Black Series Luke Skywalker X-Wing Helmet
Commonly held as an upgrade of the Poe Dameron helmet, this replica helmet is very widely liked, as the detail on it is astounding. The paint job also includes wear and tear, showing how much it would have gone through in the movies. It also includes a fake microphone, which can be adjusted.
Made in the same sculpt as the original prop decades ago, it is a very comfortable fit, and the padding inside can be removed as it is attached with Velcro. Inside are also speakers that play some nostalgic sounds, perfect for fans who like an immersive experience.
The padding is slightly flimsy and might be uncomfortable for smaller heads. The sounds from the helmet are very accurate, and the attention to detail is still very good for the price. For cosplay, it is perfect except for extended periods.
Check Price on Amazon
Black Series Incinerator Stormtrooper Helmet
A furious-looking wearable helmet, it evokes a hearty level of fear and intimidation to those who gaze upon it. The helmet is very beefy-looking and less glossy than the standard Stormtrooper helmet, which makes it all the more awe-inspiring.
The red paint and wear and tear are very fitting for the Incinerator Troopers' color scheme. Wielding flamethrowers, they have to scare their enemies away as well. The detailing is very exact, and you don't need to worry about not looking the part.
The voice changer is not very good, but it is said to be slightly better than before. However, while not the best it is still cool. If you want to cosplay as an Incinerator Trooper, this is your best entry-level option.
Check Price on Amazon
Black Series Boba Fett Helmet
Many collectors and fans consider this the best-looking replica helmet in the series. It has various scuff marks, dents, and scratches to mimic the hardened bounty hunter's journeys and exploits. The helmet also comes with a range-finder that simply adds to the cool factor of the helmet, as it has lights and deploys at a button press by battery power.
The interior is also very well made. With details down to the inch and showing all the circuitry and nuts and bolts, you can expect to feel like you are Boba Fett both on the outside as well as inside the replica helmet. Hasbro outdid themselves with this product.
The padding included in the helmet can be replaced if you don't like it, and it seems to be adequate for most situations. The quality and build are impressive for its price range. You'll turn some heads cosplaying as Boba Fett with this wearable helmet.
Check Price on Amazon
Black Series Boba Fett Prototype Helmet
Made for the 40th anniversary of The Empire Strikes Back, this wearable helmet is a replica of what Boba Fett was originally meant to be, a Super Stormtrooper. It is white and glossy, very stylish in design. It also does not have many dents and scuff marks like the real Boba Fett helmet's paint job.
The simplistic design is completely lifted from the concept art drawn long ago. It still has the range-finder but it is completely black. It also has a HUD (heads-up display) to simulate wearing a combat helmet. The range-finder also has bright lights like the real Boba Fett design.
Offered as a limited-edition item, you will enjoy its stylish design and comfortable fit. Like the current Boba Fett design it has padding, and it can be removed if you wish. A unique option, it will surely please you for your Mandalorian armour cosplay.
Check Price on Amazon
Black Series The Mandalorian Electronic Helmet
Revealed by Hasbro on the Mando Mondays event Fans and collectors can imagine scenes from the Disney Plus live action Starr Wars The Mandalorian. The helmet features highly-detailed deco, series-inspired design, interior padding, and an adjustable fit.
This screen-inspired reproduction helmet features a removable tactical light, as well as dual red interior lights that can be activated while the helmet is upside-down. Another fantastic addition to the line of Black Series helmets.
Check Price on Amazon
Black Series Captain Cardinal Helmet
The very latest replica helmet by Hasbro is the Captain Cardinal black series helmet. Captain Cardinal is a character connected to the Galaxy's Edge theme park at Disney Hollywood studios. He was also mentioned in the Star Wars new canon novel Phasma. This helmet is a beautiful crimson red and seems to be a cross between a First Order Stormtrooper and Captain Phasma herself.
Check Price on eBay
Black Series Boba Fett (Re-Armored) Premium Electronic Helmet
This role-play item features premium deco, realistic detail, and design inspired by the amazing Disney Plus series The Mandalorian. Featuring a flip-down rangefinder with flashing LED lights and an illuminated heads-up display (HUD), fans can imagine what it was like for the famous bounty hunter to reclaim his iconic armor.
If you have seen The Mandalorian you will know that Boba Fett reclaimed his famous armour and then proceeded to give it an all new paint job.
Check Price on Amazon
Black Series First Order Stormtrooper Electronic Helmet
Revealed by fan channels for the Hasbro Fan Celebration in February 2021, this First Order Stormtrooper helmet packs all off the features you would expect from the Black Series. Using the same mold as the Captain Cardinal helmet, this version also includes a voice changer, adjustable fit and a movie-inspired design.
Check Price on Amazon
Black Series Wedge Antilles Helmet
Revealed as part of the Hasbro Fan Fest livestream event in April 2021 the Black Series Wedge Antilles helmet is the first time we have seen the packaging color they have chosen for Star Wars: A New Hope.
As you can see they have gone for a like a rusty orange color. The helmet itself features highly detailed deco, movie-inspired design, interior padding, electronic lights, and sound FX.
Three internal speakers create an immersive surround sound battle simulation experience while synchronized LED lights inside the visor simulate blaster fire from enemy vehicles.
Flip the switch inside the helmet to choose between a simulation of Wedge Antilles piloting either his X-wing at the Battle of Yavin or his Snowspeeder at the Battle of Hoth, featuring communication from R2-A3.
Check Price at Entertainment Earth
Black Series Death Watch Mandalorian Helmet
This premium electronic helmet is based on the famous Mandalorian clan, Death Watch. Featured in Star Wars The Clones Wars and more recently in The Mandalorian Series on Disney Plus, fans can now recreate famous scenes. The helmet uses the same sculpt as previous Boba Fett helmets, repainted in the Death Watch pallet.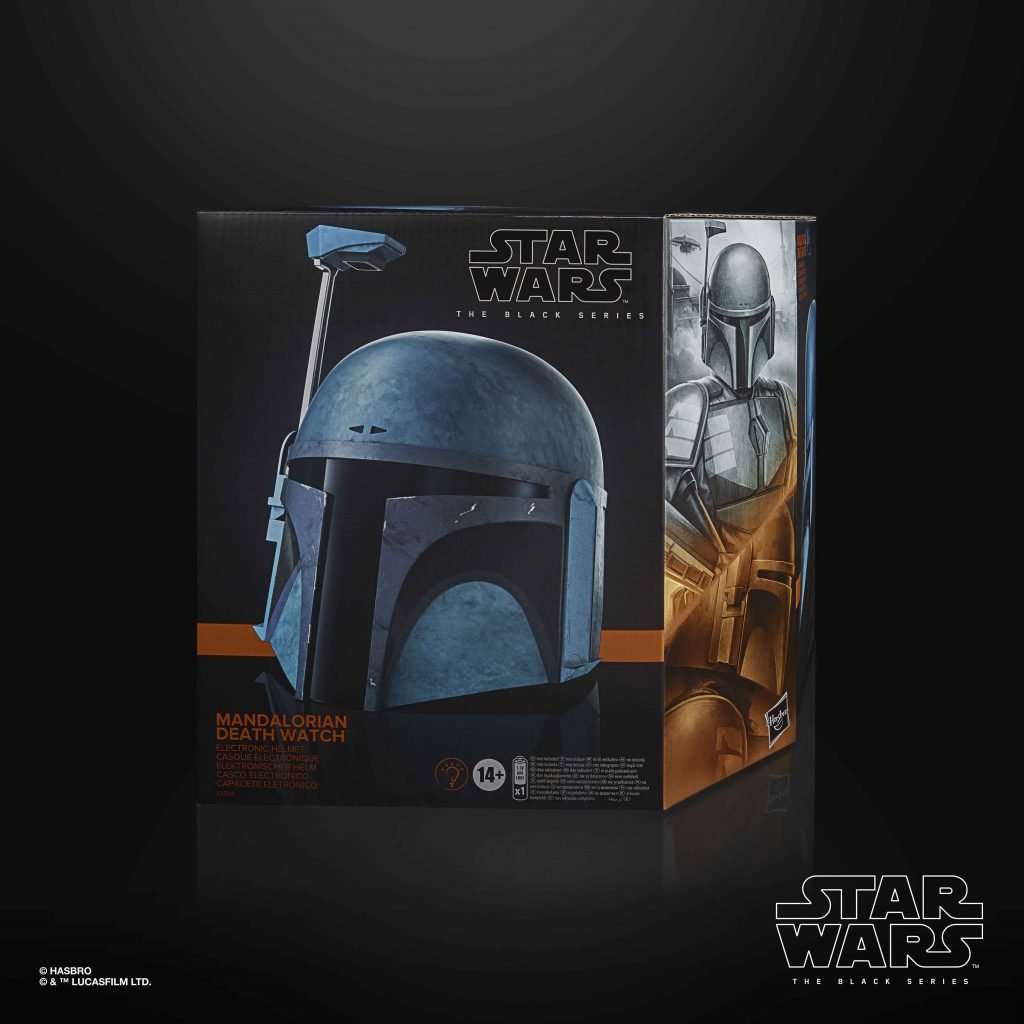 Black Series Bo-Katan Kryze Helmet
As with previous Mandalorian style helmet, this Bo-Katan version comes packed with features. With the press of a button the rangefinder drops down, activating 2 red LEDs that flash in a "hunting" pattern as well as a white LED-illuminated heads-up display (HUD). Fans can recreate scenes from the STAR WARS Galaxy with this premium roleplay helmet. The paint detail is very good, super detailed and has captured the source material perfectly. This will look fantastic along side any of the other Black Series Helmets!
Check Price on EE
We hope you enjoyed reading this review and that you will find out which one you want. While these helmets, like everything, are not perfect, they just might be the right one for your specific purpose. In the event you decide to buy one, enjoy these detailed replica helmets at a very good price!