Of all the Instagram Story stickers — Links, "Add Yours" prompts, Polls, and more — the option that can keep you tinkering for hours has to be the Music sticker. Not only is it a super personal way to spruce up your Story, but it sets the vibe for your post, too. With thousands of songs to choose from, though, it can be tough figuring out the which tunes to use, which is why I compiled a list of the best songs for Instagram Stories that include trending hits and throwbacks. Yup, these songs are perfect for just about any occasion. You're welcome.
Adding a song to your Instagram Story is a great way to give your followers a better understanding of your music taste, and an even better way to put someone on to a song they might have never heard otherwise. At this point, you're probably super familiar with the Music sticker (it's been around since June 2018, after all), but if you haven't used the feature in a minute, here's a quick refresher.
To use the sticker, all you have to do is open the Story camera, take or import the content you want to use, then tap the sticker button with the smiley face in the top right corner. Select the Music sticker, type in the name of the song you want to use, and you're good to go. Instagram only lets you play 15 seconds of a song at a time, but you can select which 15 seconds you want to use by dragging the tool at the bottom of the page. And if you want to make your Story feel like a karaoke party, you can opt to display the lyrics, too.
To make your Story stand out with a forgotten favorite, a song that never goes out of style, or a trending bop, check out the best Instagram song options are about to make your Story so fire.
Songs For Instagram Stories From 2022
01
"As It Was" by Harry Styles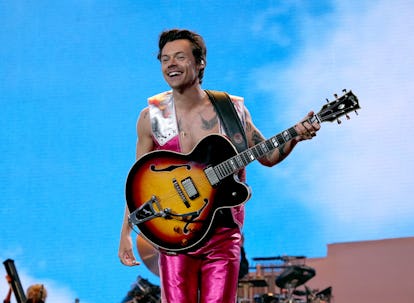 Kevin Mazur/Getty Images Entertainment/Getty Images
If you saw the "As It Was" trend going around on TikTok when Harry dropped this track in April 2022, then you know the chorus ("You know it's not the same / As it was") makes this the perfect song to accompany your baby pics.
02
"First Class" by Jack Harlow
Got any travel plans coming up? If so, don't forget to post a pretty pic of the clouds as you're soaring 30,000 feet above ground and use "First Class" to give it that extra pop of luxury — even if you're flying economy.
03
"Big Energy" by Latto
Between the groovy "Genius Of Love" sample, the nod to Mariah Carey's "Fantasy," and Latto's fiesty lyrics, this song was made to match your bad b*tch energy.
04
"CHICKEN TERIYAKI" by Rosalía
Everyone knows that food eats first, but you don't need to show off your meal to use this Rosalía banger in your IG Story, because the reggaeton beat is sure to pair well with any of your going out pics.
05
"BREAK MY SOUL" by Beyoncé
As the lead single to Queen Bey's seventh studio album, Renaissance, "BREAK MY SOUL" has all the makings of the song of the summer: a dance beat, a catchy hook, and Beyoncé, obviously. But you don't have to save this song exclusively for your summer Stories, because the fun, energetic house track is sure to get your Story viewers on their feet at any time of year.
06
"jealousy" by FKA twigs ft. Rema
Admit it: you've posted your fair share of thirst traps to Stories in your day. "Jealousy" is basically the best song to use in a thirsty Story, because the lively dancehall beat will definitely catch the attention of that certain someone, and the lyrics act as a tongue and cheek way to poke fun at the subtleness of your post.
07
"Massive" by Drake
You can never go wrong with a Drake song, and this uptempo dance tune is no exception. Plus, you get the bonus of having a solid Drake quotable in this song with the lyric, "I know my funeral gon' be lit / 'Cause of how I treated people." Sheesh.
08
"About Damn Time" by Lizzo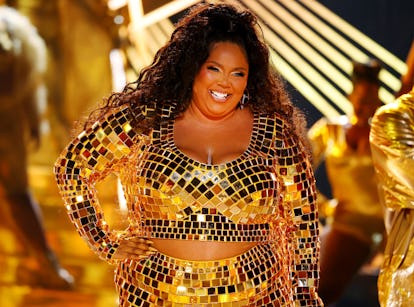 Leon Bennett/Getty Images Entertainment/Getty Images
With the feel-good chorus "Turn up the music, turn down the lights / I gotta feeling I'm gon' be alright," and the memorable "In a minute / Imma need a / Sentimental / Man or woman / To pump me up" line in the second verse, this song has something for everyone – just like all of Lizzo's songs.
09
"Silk Chiffon" by MUNA ft. Phoebe Bridgers
OK, this song technically came out at the end of 2021, but the album that it's featured on came out in 2022, so it counts. Plus, no song matches a good mood better than "Silk Chiffon." With warm lyrics like "Like, life's so fun, life's so fun / Got my mini skirt and my rollerblades on," this song feels like a big hug from an old friend, and is guaranteed to make all your Story viewers feel good.
10
"Sunroof" by Nicky Youre ft. dazy
This viral TikTok track is an earworm for a reason – the catchy intro ("La da, la da da, la la la / La da, la da di da da, la la la la la") and the sweet and breezy lyrics make give you that summer feeling all year long. A late 2021 release counts when it's a song as catchy as this one.
11
"Where You Are" by PinkPathress ft. WILLOW
Speaking of viral TikTok hits, "Where You Are" has a short and sweet chorus that fits perfectly within Instagram Story's 15-second limits for songs, and fits the vibe of almost any post.
12
"Take My Breath" by The Weeknd
This '80s-inspired synth-pop tune from The Weeknd works with so many different kinds of Story posts: throwback pics, GRWMs, party videos, you name it. Another 2021 single on a 2022 album, so it stays!
13
"Used To Know Me" by Charli XCX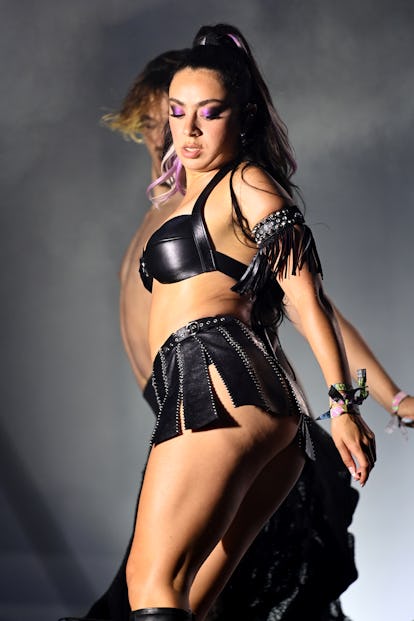 Kate Green/Getty Images Entertainment/Getty Images
With biting lyrics like, "You say I'm turning evil / I'll say I'm finally pure / Shine bright in my reflection/ Think I lost myself before," and "Held me back, tied me up inside a cage / Had to change my life 'cause I knew you'd stay the same," this song is the ultimate IDGAF breakup anthem. And it sends a message, too.
14
"This Hell" by Rina Sawayama
No offense, but "Get in line, pass the wine, b*tch / We're going straight to hell" is the best line of 2022. Add a little country twang to your Story with this banger about LGBTQ+ acceptance.
15
"Party" by Bad Bunny ft. Rauw Alejandro
Is using a song called "Party" in an IG Story about a party a little excessive? Maybe. Am I going to do it anyway? Absolutely.
16
Throwback Songs For Instagram Stories
"Good As Hell" by Lizzo
Lizzo's "Good As Hell" lyrics never fail to boost my confidence. There's no denying that singing it will always make you — and your pals — feel like a damn kween.
17
"bad guy" by Billie Eilish
Eilish may have only been 17 years old when this hit was released in 2019, but "bad guy" never gets old due to its edgy lyrics and catchy beat.
18
"thank u, next" by Ariana Grande
Grande might have found her own happily ever after, but there's no denying her track "thank u, next" is a solid breakup bop. Regardless if you just experienced tremendous heartbreak or if you're celebrating being single, it's a powerful song that'll get all your friends chiming in.
19
"Savage" by Megan Thee Stallion
If you and your crew need a motivational pick-me-up, Megan Thee Stallion's 2020 anthem "Savage" has got you covered. The intro, where Megan raps, "I'm that b*tch, been that b*tch, still that b*tch, will forever be that b*tch," will remind yourself (and your followers) that you're not going to let anyone or anything bring you down. Plus, the song is just catchy.
20
"Peaches" by Justin Bieber ft. Daniel Caesar and Giveon
Justin Bieber's song "Peaches" is the anthem of the summer with some feel-good lyrics that you'll want to sing along to. TBH, they don't completely make sense (getting your peaches out in Georgia doesn't seem to have a lot to do with taking your significant other up north to Canada), but adding the song to your Story will definitely get you into the patio season mood.
21
"Formation" by Beyoncé
It's hard to believe that Beyoncé "Formation" came out all the way back in 2016. However, the lyrics "Okay, okay, ladies, now let's get in formation, I slay / Okay ladies, now let's get in formation, I slay" never fail to make you feel like a total boss singing along and dancing like a member of the Beyhive.
22
"Levitating" by Dua Lipa
Hanging out with your besties? Dua Lipa's undeniably catchy "Levitating" will add some major GNO energy to your Story. Even if you can't be out dancing until dawn, the chorus — "I got you, moonlight, you're my starlight/I need you all night, come on, dance with me/I'm levitating" — is definitely a vibe.
23
"Life Is Good" (Remix) by Future ft. Drake
This song is for all the hustlers out there. The intro, "Workin' on the weekend like usual/Way off in the deep end like usual" is perfect when you want to add a work hard, play hard vibe to your Instagram Story.
24
"Best Friend" by Saweetie ft. Doja Cat
Hype up your bestie and your day one with this 2021 hit from Saweetie and Doja Cat. The lyrics are definitely NSFW, but they're perfect when you need a twerk-worthy pump-up anthem to dance to.
25
"Motivation" by Normani
Ever since the former Fifth Harmony star said "Imma break you off, let me be your motivation" in 2019, workout playlist have never been the same – and neither have post-gym selfies. But I'm not mad about it, because a little "Motivation" goes a long way.
26
"Feeling Myself" by Nicki Minaj ft. Beyoncé
Nicki Minaj. Beyoncé. Need I say more?! But seriously, there's no better way to commemorate a night out with your besties than by using the catchy "I'm feelin' myself, I'm feelin' myself, I'm feelin' my" chorus of this empowering anthem in your IG Story.
27
"Kiss Me More" by Doja Cat ft. SZA
"Kiss Me More" is a certified banger, and no matter who you're posting a pic of – your SO, your cat, your dog, or yourself – the song is sure to get the attention of your followers.
28
"I Like It" by Cardi B ft. Bad Bunny and J. Balvin
This track sounds exactly how a tropical vacation feels, and whether you're unwinding by the pool with a coconut drink in the Caribbean or enjoying a staycation locally, "I Like It" is sure to make a great addition to all your impressive vacay pics.
29
"Rain On Me" by Lady Gaga ft. Ariana Grande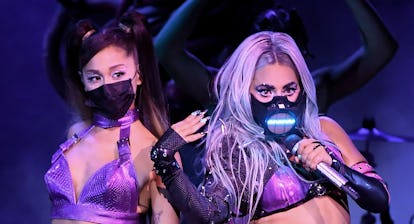 Kevin Winter/MTV VMAs 2020/Getty Images Entertainment/Getty Images
From rainy days spent in bed to highlighting your strength through a difficult time, the"I'd rather be dry but at least I'm alive" chorus from this unstoppable duo can be used in so many ways.
30
"I Love It" by Icona Pop ft. Charli XCX
You can't post pics from the party without using the greatest party song of all time. I'm sorry, but those are the rules. Plus, it's impossible not to be nostalgic for the days when you couldn't go anywhere without hearing the words "I don't care / I love it" on the radio. So before you hit Post on that throwback pic, don't forget to include this song to give it the full effect.
This article was originally published on 06.08.19